Much needed stonework repairs at St Mary the Virgin, one of the Parish of Findon, Clapham and Patching churches, have recently been completed by TE Tilley Ltd stonemasons.
St Mary's dates from the 12th century, though restored in the second half of the 19th century. It is well known for the rare, highly glazed, tiled reredos in the chancel, produced by William Morris for Morris & Co in the 1870s and which is one of only three made by the firm.

The recent stonework repairs amounted to consolidation and some replacement of Fittleworth stone forming door and window reveals and window traceries, but also some pointing work, the removal of Victorian iron cramps, and a small amount of stabilisation work associated with the William Morris tiles.
As well as receiving a grant from All Churches Trust and donations from the Friends of Clapham and Patching Churches and local donors, the PCC were lucky enough to secure grant funding from The Wolfson Foundation.
The Wolfson Foundation was established in 1955 as an independent charity supporting projects in science, health, heritage, humanities and the arts. Under the Wolfson Fabric Repairs Grants Programme, church conservation grants are awarded on behalf of The Wolfson Foundation by the National Churches Trust, a charity which strives to keep church buildings around the UK open so they can be used for worship and by the community.

The Programme 'supports conservation and restoration work at places of worship with outstanding and architectural significance, for projects such as roof repairs, rainwater disposal and drainage and masonry repairs', as at St Mary's.
St Mary's was one of 27 churches throughout the UK to receive funding in the recent round of awards.
"We are delighted that the stonework repairs have been able to proceed. We are grateful for all this generous support, thus ensuring that the church can remain open to enable our local community to worship here and visitors from far and wide can enjoy our beautiful church building with the stunning reredos and historic brasses. We thank Julian Vallis for his expert advice and Tilleys Stonemasons for their exceptional work." Maggie Somerset, Joint Church Warden, on behalf of the PCC of Findon Clapham and Patching.
To read about some of our other ecclesiastical projects, please click here.
If you would like to discuss a conservation repair or other project, please contact us.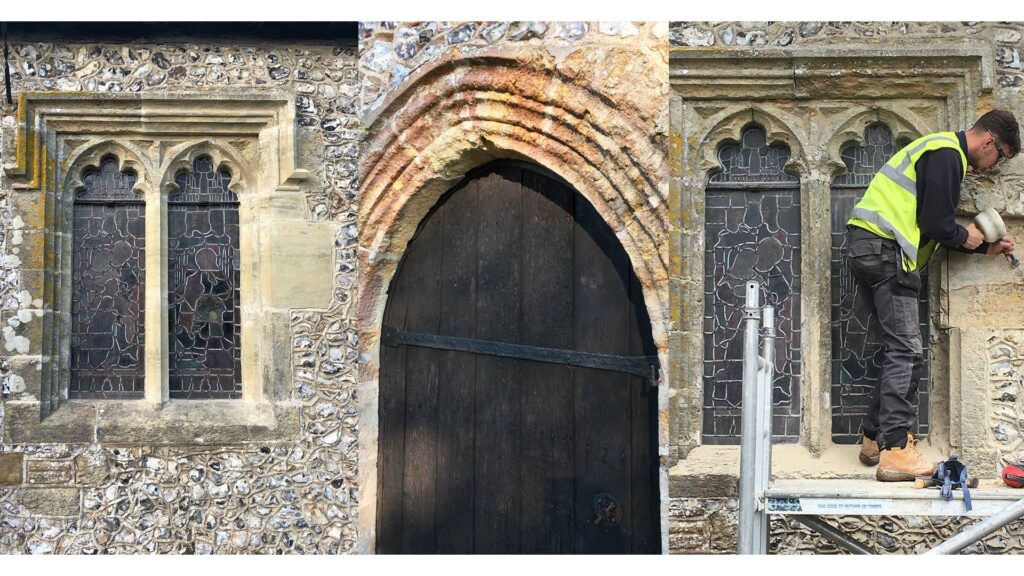 Images courtesy of St Mary the Virgin Church, Clapham