Planning permission has recently been granted for the next stage of transformation at the Rowans Hospice in Purbrook, enabling works to begin.
The Hospice opened in October 1994 as bespoke-designed, independent hospice for the provision of specialist palliative in-patient and day care for life limiting illnesses.  The building is also used to support the families of patients and as base for education.  The Hospice undertakes a great deal of work within the community, serving the city of Portsmouth and the surrounding area of south east Hampshire.
We have worked with the team at the Rowans Hospice for a number of years, including during the development and construction of the Living Well Centre which opened in November 2016, offering enhanced facilities for the early care of patients and their families.
We were then appointed to complete a space audit of the original building and develop a phased master plan of extension and refurbishment, which sought to reorganise spaces and extend the footprint where necessary.
The first four stages focused on the transformation of the ward, including refurbishing all bedrooms and associated en-suite and bathroom facilities, as well as greatly improving communal spaces and refreshing hard landscaping that patients have the opportunity to use.
Stage 5 will continue the transformation and internal reorganisation of the existing building, in response to changes in care and the expectations of building users. This will involve creating a new light and airy coffee shop, simplifying the main reception entrance and associated access routes, providing space for a dedicated staff room with kitchenette, and a separate meeting room. The mechanical and electrical systems will also be improved and new glazing arrangements introduced in a number of locations including the Chapel of Rest.
Elements of the landscaping which create a picturesque outlook for patients were refreshed or reimagined during the first four stages. This stage will focus on the approach to the main entrance, to improve the patient and visitor experience.
The largely internal works are intended to help maximise the benefit patients and visitors receive from the service, while not detracting from the original building and concept of the Hospice, which are held in affection by many users and continue to be relevant today.
Works are due to complete in early 2024.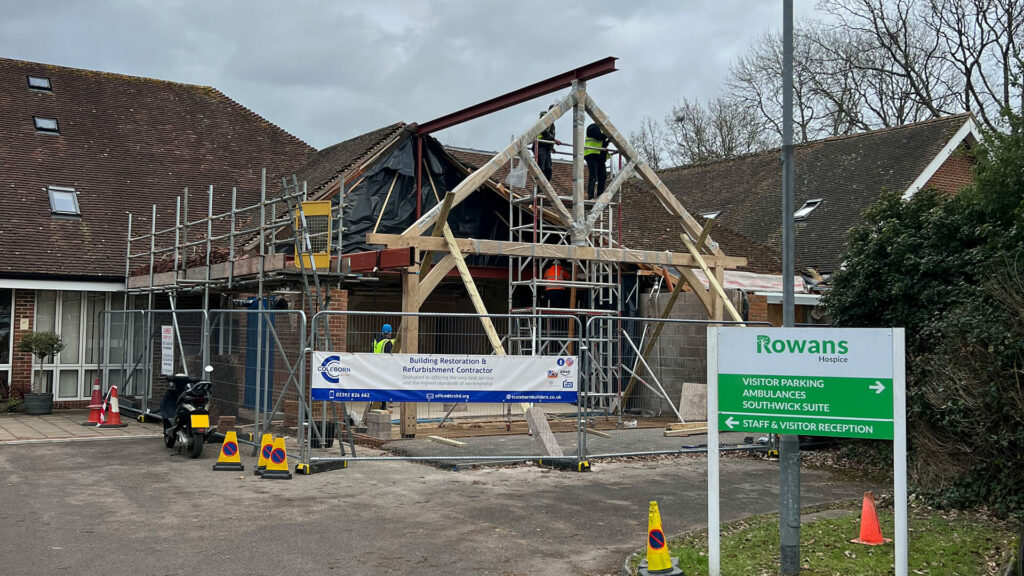 Related articles about works at the Hospice can be found here:
Transformation of the in-patient unit at the Rowans Hospice completed
Second stage of ward refurbishment at the Rowans Hospice handed over
New and refurbished spaces handed over for patient use at the Rowans Hospice
Further information about the Rowans Hospice is available on their website.
Please contact us if you would like to discuss a potential project.